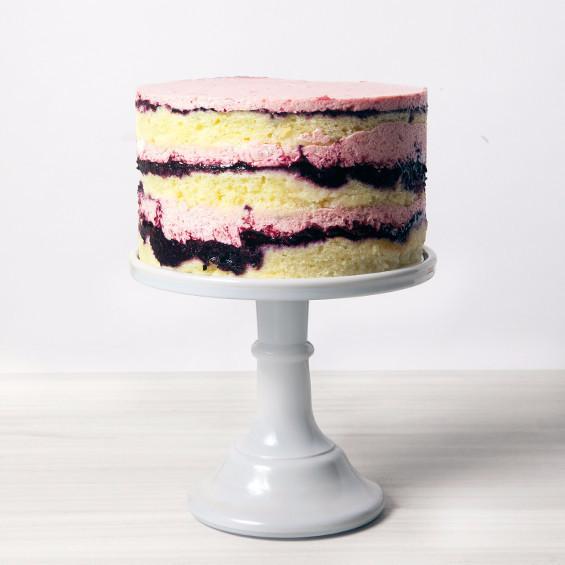 Lemon & Berries Cake Gluten-free
ONLY AVAILABLE FOR LOCAL NYC DELIVERY OR PICKUP
Summer in a cake! As kind on the eyes as it is to the taste buds, our colorful cake will have you feeling bright and sunny from the moment you first indulge.  Made with the season's finest fresh fruits, this cake features layers of blueberry puree, strawberry buttercream and light, and moist lemon cake.  Perfect for pool parties, wedding showers or a "just because" occasion.  
 This 6'' Cake serves 8 -10 people.
Available for: Local Delivery / Pick-up / Mail Orders
FAQ - When will I receive my order? You can choose a convenient order arrival date at check out, whether your order is for local delivery, pick-up or national shipping. Advance orders will be still baked the day we ship out. 
NYC Customers - Need your order for the same day or delivered at a different offered time?  Let us know what you need via email or text  917-4067447.  We'll reply promptly!
Click links for detailed info on  New York City Delivery - National Shipping and Pick-up Location 
Ingredients
Eggs, butter, pure cane sugar, gluten-free flours (brown rice, tapioca starch, potato starch, sweet rice flour, rice starch, corn starch) non fat dry milk powder, strawberries, blueberries, lemon juice, milk, lemon zest, baking powder, xanthan gum, pure vanilla extract, sea salt.
Allergens: eggs, dairy. May contain traces of peanuts & tree nuts. All-natural. Made in our 100% gluten-free facility in Brooklyn NY.